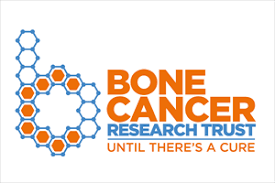 In 2004, a group of families who had lost children and young people to primary bone cancer came together. They wanted to tackle head-on the fact that there was virtually no accessible bone cancer information, and practically no funding for research into this disease.
Determined not to accept the status quo, the families pooled funds they had already raised, and together with guidance from Professor Ian Lewis (Consultant Paediatrician and Adolescent Oncologist at St James's University Hospital Leeds) the Bone Cancer Research Trust was registered in 2006.
The first research grants were awarded in autumn 2006. The charity's original logo was designed to show that two of the most common forms of primary bone cancer – osteosarcoma and Ewing sarcoma – tend to affect children and young people, and tend to start in the long bones of the arms and legs.
Today, the Bone Cancer Research trust aims to fund research into all forms of primary bone cancer, and ensure that information and support are available to patients of all ages.
You can donate directly to The Music Makers Bone Cancer just-giving page here: https://www.justgiving.com/fundraising/themusicmakers
---
Charity is an important part of our course ethos. We have a firm believing that the performing arts is a powerful force in charity and fund-raising.  The children on the course are proud and motivated to use their talents, ideas, and efforts to raise money for charity.   Each week of every course is dedicated to a certain charity.
We please take the time to learn about the wonderful organisations we are proud to work with.  We are always keen to work with and learn about new charities, please get in touch if you would like to suggest a charity for us to work with.